We're all used to seeing these sturdy, waist-high, tripod turnstiles in stadiums, amusement parks and subway and train stations. Traditionally, they're a great solution for supervised crowd control as well as ticket collection. Recently, this old workhorse is being used in new ways in certain parts of the world, and showing up in places no one could even imagine.
I mean, why on earth would a turnstile be used in a bathroom and how could it add additional revenue for retail? Let's take a look at an interesting spin on a very old idea, the turnstile…
A New Public Bathroom Concept
Those who have traveled abroad know that a public bathroom is often nonexistent. After enjoying hours of shopping or sightseeing there's the confusion, followed by desperation, as you learn that the nearest restroom is blocks away and likely to have questionable sanitation. Often the shops and restaurants have no interest in providing a free restroom for a steady stream of non-customers.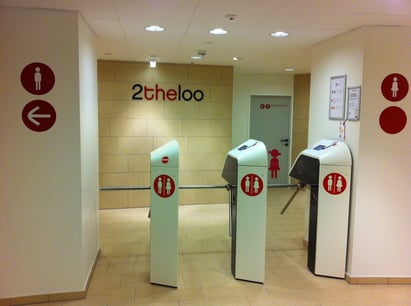 Enter a new business concept now taking root in Europe: the luxury bathroom! Rent a small amount of real estate in a trendy shopping area or near a train station and voila, turn it into a trendy, upscale public bathroom. Hire a few people to run a small retail shop in the front and keep the restrooms immaculate. Next, decorate each completely private, lockable toilet stall with eye-popping graphics. Don't just solve a pain point that's no one is interested in fixing, provide a premium experience!
The innovative company is called 2theloo, founded by entrepreneur Almar Holtz of Amsterdam, and he's won several awards with the concept. The first 2theloo was opened in 2011 and the business has exploded, with multiple locations in several cities across Europe, as well as railway and Shell petroleum stations all the way to Israel.
Where do Turnstiles Come in?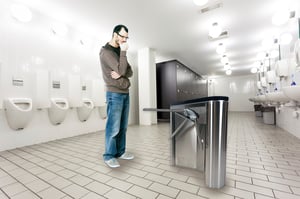 So where does a turnstile factor into the equation? Most creatively! When you're done browsing the retail area in front and it's time for "business," you pay coins/cash into a special electronic POS interface and the turnstile unlocks to allow entry. Customers can also prepay in the retail shop up front and enter a one-time PIN as well. In this manner, the turnstile performs its traditional role as gatekeeper, ensuring that the service is provided only to paying customers.
The bigger innovation here is that the POS interface provides another feature that drives ROI: each customer gets a coupon for the same value they paid to use the facilities, and that coupon can be used in 2theloo or nearby eateries or shops. Think about this, now access to a restroom becomes monetized; local businesses will pay for the privilege to offer coupons in the bathroom and in turn can expect to receive increased business as these new customers are likely to spend more than the value of the coupon.
One wonders, could this concept take hold in North America? In places where sanitation, luxury and convenience are valued; retail is competitive, bathrooms are scarce, and thousands of people abound, it could be worth doing the math. Soon, we all might be asking, "What's this turnstile doing in the bathroom?", and in other new and innovative locations.