As an integrator, you're used to having a predictable revenue model selling security products to end users. Your portfolio likely contains products like door hardware, access control systems, card access readers and software, video surveillance cameras, VMS and many other examples that help customers deploy a complete security solution.
While selling these solutions may provide a predictable and recurring revenue opportunity, take a second to think about the volume you need to sell so that you can meet, let alone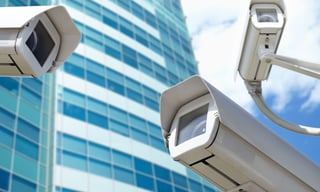 exceed your sales targets. If you're looking to sell millions of dollars in security products, your team needs to work overtime to get the margins your CEO desires.
This is especially true in today's competitive environment where manufacturers are often in a race to the bottom for the lowest price possible. Card readers sell for a few hundred dollars at the most while the surveillance industry competes for the best discount. It's a market ripe for end users where they get to be the hero by purchasing high quality security products while cutting costs.
This can be a frustrating reality for integrators. With decreasing profit margins, account managers face more pressure to sell higher volume than ever before. But it doesn't have to be this way.
The Benefits of Selling Security Entrances
Security entrances are often overlooked as an access control solution despite their ability to solve numerous crowd control problems – all while offering end-users a greater ROI. Security entrances help businesses control who can enter and exit a building, all while decreasing significant problems like tailgating and piggybacking. Selling security entrances provides the opportunity for you to build a strong relationship with customers while producing additional revenue for yourself in the future.
For an integrator, the best sales process begins with identifying the pain-points of the end user rather than having a preconceived notion of what they might need. Even when end users know they need some type of security entrance, they may not be familiar with the different types of products available and don't accurately communicate their need. Asking the right questions allows your sales force to maximize revenue while finding the best solution for their customer.
After getting this discovery out of the way, account managers should get a clearer picture of the site by asking for a walk-through. Think of these as an opportunity to see what type of security is at each entrance. Is it manned by a security guard or is there a card reader? How much is tailgating a problem in your prospect's building? These are all important questions to ask that can help find the right solution for the end user and help you form a recommendation.

How Security Entrances Fit Your Profit Model
Here's an example of what that recommendation might look like: You might start off selling five or six optical turnstiles to upgrade access control at a manned entrance. Perhaps you discover that there is also an under-secured data center or cash area that could better be protected by a unmanned security mantrap portal. Move out to the perimeter of the campus and there's an employee parking lot where sets of full height turnstiles can ensure only employees enter from that direction to certain buildings. Another possibility in another location could be employee parking garages leading directly into side entrances of buildings where several security revolving doors can take the place of guard service. Eastman did exactly this with their new corporate headquarters building in Tennessee (see the case study here).
If your sales rep successfully makes this sale, it would result in a minimum of $400,000 in revenue. When you consider how many surveillance cameras you would need to sell to match that, security entrances are a no-brainer, especially given the long-term ROI potential of this relationship.

We typically see end users increasing the number of entrances they purchase as their security needs change. There are several reasons for this; usually the customer will bring up new security pain points they have at other buildings. This creates an opportunity to show them how they can secure other locations.
As a result, we notice security managers increasing their purchases exponentially in years two and three. By establishing a good relationship with existing customers, integrators have enormous upsell potential to dramatically increase revenue without expanding to new prospects.
For all these reasons, integrating security entrances into your profit model will help you easily meet your sales targets, all while keeping customers happy.
Interested in learning more about the value of quality security entrances? Read our case study and learn how Unum Insurance gained the ability to accommodate large traffic flows through security revolving doors.