After 49 years in the grocery business, Bob Mariano is a legend in the Chicago area and beyond. After beginning as a deli clerk in 1967 and working his way up the corporate ladder for Dominick's Finer Foods, eventually becoming President and CEO in 1995, Bob took on leadership of Roundy's stores in 2002.
Next stop in 2010, the first Mariano's Fresh Market opened in Arlington Heights.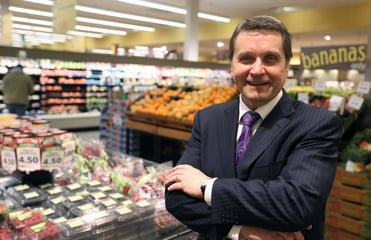 In November 2015, Ohio-based retailer Kroger announced that it was buying Roundy's, which includes Mariano's and other brands, for $800 million. As of November 2015, the Roundy's chain operates over 150 supermarkets and 100+ pharmacies in Wisconsin and northern Illinois. Mariano opened 36 namesake stores in the Chicago area.
Bob Mariano announced in July 2016 that he would retire as Roundy's CEO on September 1st of that year. We bothered Bob in retirement to ask him questions about something unique he started around 35 years ago: putting a revolving door in an urban grocery store.
You are like the "father of revolving doors" in a grocery store setting. A revolving door for such a location isn't automatic, where did your vision come from?
I can't be certain, but I recall in the early 90s, there was a Minnesota-based grocery store company called Byerly's. The namesake owner was quite an innovator, a great entrepreneur. He had chandeliers and a jewelry department, and much more. I believe I saw my first revolving door there.
Chicago, of course, is famous as the "Windy City." Was this a motivating factor for changing your store entrances?
Very much so, in a typical store, we had double sliding doors and with a lot of traffic, the two doors never achieved a seal, they were always open somewhat. Add to this, we had loading doors in the back of the store. If the loading doors were open during a busy time in the store, we had a very noticeable wind tunnel going.
Couldn't you design a larger vestibule between the two sliding doors so as to create enough time that one door is always closed?
Here's the rub: retailers are notoriously stingy in giving up space that can be used to sell products and make money. So, we had a design challenge, and here's where I hit on using revolving doors.
Where did it all start?
Our first revolver was a big one and it was automated. Chicago has wide swings in its weather, and we wanted to more effectively control our environment. We are not creating the most welcoming shopping experience if our customers notice that our employees are wearing their coats inside or that some staff need to wear their gloves!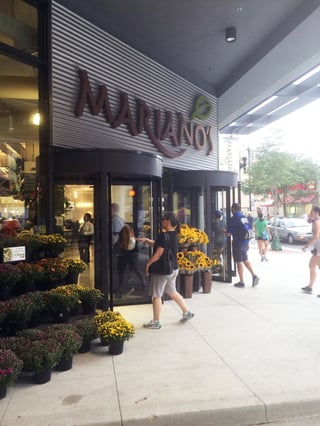 Did revolving doors satisfy your goals?
Yes, we were pleased with the performance, much better than the sliders. The revolving doors with one panel of the door always closed, were giving us the seal we wanted with immediate results in improving the environment. Our customers noticed right away and so did our employees.
What about energy savings?
During this period, we were doing a lot of things to cut our energy use, so it was hard to break out the revolving door part of it specifically, but there is no doubt those entrances contributed to substantial savings.
How did installation of revolving doors proceed?
We started out with one large revolver, but our design evolved to having two smaller gauge, manual revolving doors. We chose sturdy models that created a better seal. This created a better environment for sure, especially for employees working close by the entrance, and throughput on the doors was great—I'm always amazed how many people those doors can handle.
What about customer shopping carts?
In our urban locations, a lot of customers make relatively small purchases and don't need to take a cart through the doors outside. For example, we had a lunch service and people come in, get what they want and take their food out the revolving door back to their office. For those who wish to take the cart out, we have ADA-compliant swing doors next to the revolving doors. Truth told, though, carts were always a challenge. In our suburban locations, where we have more space, we continued using the two sliding doors but with a larger vestibule.
What do revolving doors say to the customer?
When you approach a retail facility and it has a revolver and you enter that door and it moves easy and it's solid that feels good, but if it's clunky or too small then you're affecting the experience negatively. Anything in retail affects the customer experience, so my adage was always, never cheap, buy solid, high-performing entrances.
It was great to have a chance to chat with Bob since I grew up in Chicago and I'm familiar with his career over the decades. The recent Mariano's stores in the past few years have been using our BoonAssist TQ manual revolving doors which feature power assist, door wing positioning and speed control to make the user experience as easy as possible.