Google the term "best looking offices" and you'll find no shortage of results, with photos of interiors featuring beautiful design, materials, light and color. But do office space aesthetics actually have an effect on companies and their people? And how do aesthetics fit into the equation when it comes to how secure an office space is?
When It Comes to Physical Security, Looks Do Matter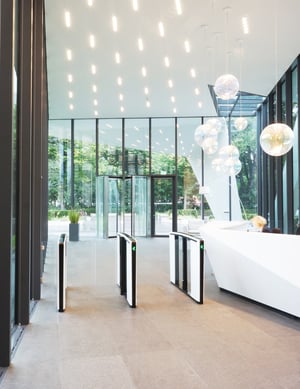 According to a study that discusses the role of aesthetics and physical security, looks do matter. Security architecture by its nature is designed to keep people out of what would otherwise be public spaces – so it can intimidate or dissuade would-be visitors by limiting approachability. However, this is the opposite of the image desired by many organizations, who need security entrances to control access while creating an environment of both openness and prestige. The study notes, "The indirect costs of poorly designed…security architecture includes limitations on the right to assemble and, by evoking feelings of fear or anxiety, they affect the achievement of happiness itself."
Security is a necessity and a requirement to keep your employees, staff, visitors, vendors and guests safe. For users of security entrances such as turnstiles and revolving doors, security is a primary element. At the same time, the general look and feel also matters. People do judge a book by its cover, and an eye-catching, visually pleasing design sends the message that the corporation takes pride not only in its security solutions, but also in how it looks and is being used. It speaks to your company values. It shows that you're committed to offering a safe and secure work and visiting environment.
Complement Branding, Design Elements or Facade
Aesthetics are particularly important in applications such as office buildings and museums. Important aesthetic features to incorporate into your security entrance may include architectural finishes and glazing options to complement your branding, design elements or façade. There are also numerous top cover options for optical turnstiles. Depending upon what you decide, your security entrance can blend into your décor while also providing a high level of prestige, security and safety.
Aesthetics: Just One Factor of a Sound Security Decision
Based on our experiences, we've developed a comprehensive and consultative process called STARTSS®, a decision methodology with eight factors to guide you to make the best security entrance decision for the long term.
Most stakeholders believe that aesthetics are paramount during the planning stages of an entry, however, all eight of the STARTSS decision factors should be addressed to install a truly effective security solution for the long term. Your entrance may be drop-dead gorgeous, but if you have a line of employees stacking up at the entry they won't appreciate the aesthetic appeal for long.

Overall, office and entry design matters. You may not need to go as far as installing dancing waterfalls next to your reception desk, but you do need to think about how you want to be perceived, what messages you want to convey and how you want your staff to feel when they're at work. Aesthetics ultimately matter. But, remember that aesthetics are just the beginning. Your investment will truly provide maximum value for the longest period possible if you address the total solution as described by STARTSS (Security, Throughput, Aesthetics, ROI, Training, Service and Safety).