Creating a revolving door specification ("spec" for short) can be extremely challenging. Many architects and specifiers today utilize online specification services for identifying the revolving doors they want to incorporate into their projects. These online sites often provide "master" revolving door specs that bundle numerous different types of doors into a single 20+ page document. The architect or specifier has to know what to keep and what to delete. This process creates the potential for errors.
Inconsistent, erroneous revolving door specs can waste time and, potentially, money. When specifiers have questions, they have to submit RFI's (Requests for Information) that are answered in days, weeks, or, sometimes, never. On the receiving end of an erroneous spec, estimators are forced to provide two or more bids for different doors because they aren't sure what the architect is looking for. These factors can delay projects, and, in the worst case, lead to installation of the wrong type of revolving door, which causes a host of issues for the end user and pedestrians.
Let's discuss 5 simple steps for creating a revolving door specification that is just about foolproof, accurate and something that estimators will appreciate and respond to quickly. While these steps will get you started, we always recommend that an architect or specifier contact one of our entry experts to discuss their unique building project.
Step 1: Select the appropriate door operation for the application
Revolving doors are available in either manual or automatic operation. A manual revolving door is offered with smaller diameters and is ideal for applications where the user's hands are relatively empty – retail shops, restaurants and public buildings. Automatic doors are available in diameters up to 20 feet and can accommodate luggage, wheelchairs and gurneys – for applications including hotels, casinos, hospitals and grocery stores.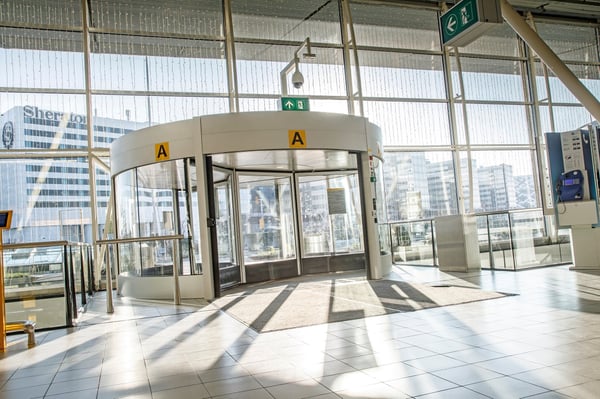 Once the specifier or architect has selected the appropriate operation for the application, there are a few additional considerations for writing the spec.
For manual revolving doors, it is critical to specify either a mechanical or electro-mechanical speed control system. A mechanical speed control is sturdy and prevents hazardous rotation speeds, but limits the size of door that can installed because people have to push the full weight of the doors. An electro-mechanical speed control also prevents hazardous rotation speeds, but also allows for more modern features, such as power assist, positioning and even a few security options, like access control integration and remote "panic" locking. Doors with electro-mechanical speed control systems can also be larger and taller because the technology assists in moving the door wings.
For automatic doors, specifiers should consistently select safety sensors, motion sensors and other features required by ANSI 156.27. A failure to include these safety features in the specification can leave an estimator confused: did they really want a manual door instead?
Step 2: Consider the compartment size and number of door wings
Manual revolving doors are available in three- or four-wing configurations, but a key concept is that they are intended to accommodate one person per compartment, no matter the diameter of the door. Therefore, a three-wing door provides a larger compartment than a four-wing door, and this equates to more comfort for the user. For smaller sized manual doors, especially 3 wing doors, make sure the designer selects a diameter that will meet IBC and NFPA requirements for Life Safety. An aggregate egress width of 36" is required when revolving doors are in the collapsed position.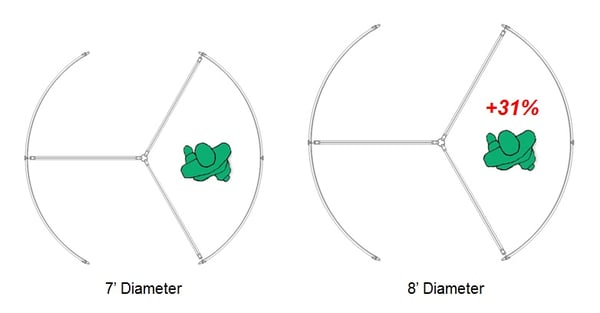 Automatic doors tend to be larger in size than manual doors and therefore can accommodate multiple people in each compartment. As an automatic door increases in diameter, so does its ability to accommodate wheelchairs, gurneys, luggage and the like. Consider the application when selecting the number of door wings. A two-wing door will better accommodate large gurneys. A four-wing door will have the smallest compartment size and be limited in what can enter.
Step 3: Be consistent and specific when choosing glass and finish options
As an architect or specifier navigates a master revolving door spec, it is critical that they use consistency when selecting the finish and glass types. It is common to see multiple finishes or glass types called out in a single spec. Again, this leads to confusion. By using the keyboard's "find" function (control + F) and searching for "finish" or "glass," an architect can easily discover all of the places where these options are included and make the appropriate changes.
Another tip is to be specific. When calling out glass types, does "clear glass" mean regular clear glass or clear, low iron glass? Is the anodized aluminum finish clear, black or dark bronze? Is the stainless steel finish brushed or mirror polished?
Step 4: Indicate the desired flooring (even if it falls under the "Related" section)
Flooring is an important component to consider when specifying a revolving door. Either the flooring selection can blend in with the existing surround or it can stand out, as a circular footprint using a complementary floor finish, to indicate to the user where to step inside.

Door manufacturers do not typically supply flooring themselves, but this doesn't mean that the selection shouldn't be included in the "Related" section of the spec, as the flooring can have an impact on the installation of the door.
Step 5: Provide consistent door drawings
The door drawing provided to the estimator must reflect exactly the information that is included in the specification. Any inconsistency will leave the estimator confused, resulting in an RFI or the generation of multiple bids.
In summary, the creation of a revolving door spec is challenging but not insurmountable. There is tremendous value in consulting with a door manufacturer representative to ensure a door is the right fit. Give Boon Edam a call at 1-800-334-5552 or email at sales@boonedam.us for assistance with any revolving door specification.