We recently met with a Fortune 100 company who had constructed their own mantrap style security vestibule at the entrance to a data center. They figured it would save them money, but it ended up being ineffective and a constant drain on resources.
Stop the Bleeding
The company erected walls around a 10 x 20 foot area at the entrance which was accessible by a locked, exterior swing door that opened on an authorized badge read. Inside, they mounted 2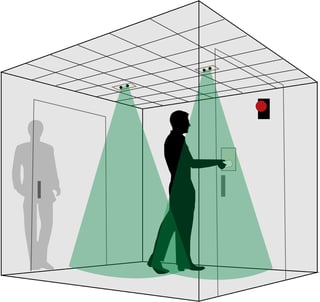 independent overhead cameras to detect the presence of the user and ensure against piggybacking. They also installed a secondary fingerprint reader at the center of the vestibule to confirm the identity of the user inside. Upon a valid fingerprint authorization, a second interior swing door unlocked, and the user could pass into the secured area.
While this sounds straightforward, there were 3 variables that impaired effectiveness and caused a high number of false rejections and low throughput:
The large size of the vestibule created sensor "dead spots" which impaired the ability of the sensors to accurately detect presence and/or piggybacking.
Overhead fluorescent lights created a glare that also interfered with the detection system.
The company did not install a user communication system other than an intercom. Without any audible feedback or indicator lights, users didn't know where to stand or when to present their fingerprints. If a user was not detected correctly, they would not know it and wonder why the second door did not unlock. They would then use the intercom to get help but this took up a lot of time and greatly impacted throughput.
After months of troubleshooting, tweaking, testing, and getting no results…the company decided to "stop the bleeding" and knock down their homemade vestibule and install a security portal. A portal provides a contained and controlled environment that facilitates effective presence detection, a user communication system and support for both exterior and interior access control systems. Completely tested and proven in the field over decades, the security portal was a turnkey solution that solved the requirements and let everyone get back to their jobs for a fixed cost.
Why "Do-It-Yourself" is a Bad Idea
Homemade security vestibules divert your security or facility resources away from their roles. Unless they are trained in developing and testing security entrances, this is a drain on productivity.
Your employees unwittingly become the guinea pigs when they just want to get inside and do the job they were hired for.
You DO NOT save money. Instead you can lose money until the detection issues are solved.
Security entrances are complicated and therefore should be proven and reliable. Work with your security integrator or consultant to purchase a proven, reliable solution that fits your needs and set yourself free to do what you do best.